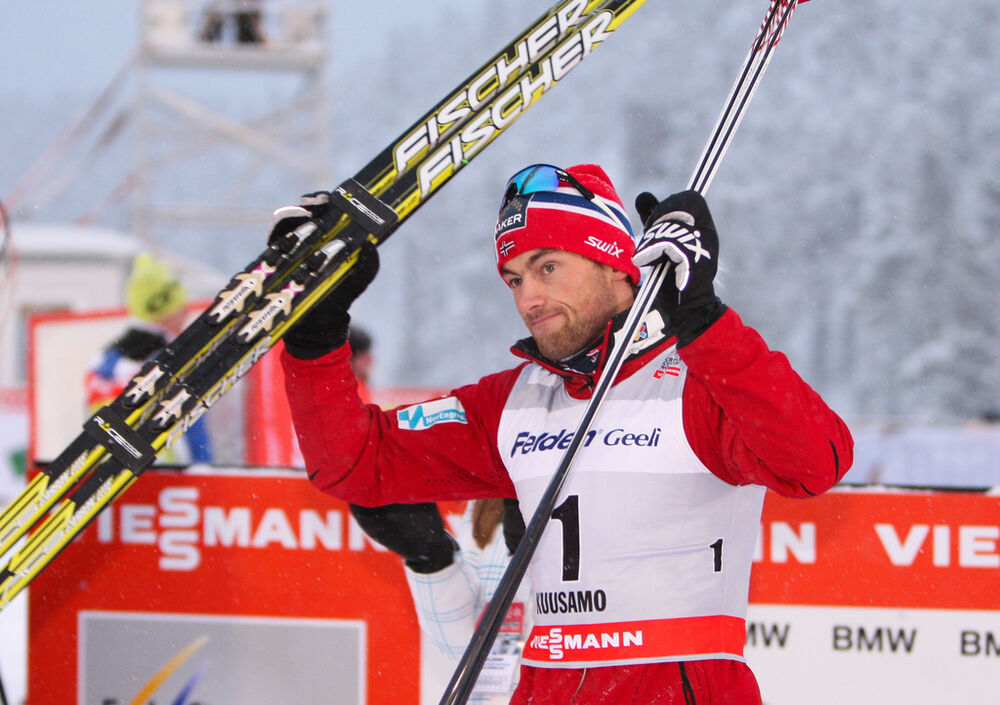 02.12.2012, Kuusamo, Finland (FIN): Petter Northug (NOR), Fischer, Swix, Alpina, Rottefella - FIS world cup cross-country, pursuit men, Kuusamo (FIN). www.nordicfocus.com. © Laiho/NordicFocus. Every downloaded picture is fee-liable. NordicFocus
Petter Northug : "La victoire la plus difficile de ma carrière"
Voici les réactions des trois premiers du Mini-Tour, le classement de la coupe du monde et le résumé vidéo de la dernière étape.
Denne artikkelen er over 7 år gammel, og kan inneholde utdatert informasjon.
...
Les réactions (source FIS) :
Alexey Poltoranin (KAZ) : "After the sprint on Friday I was very tired. The free technique competition was not good for me. However, today I felt very good. I had fast skis also. I prefer classical technique. I have been working a lot on the technique recently. I am now going home to train. I will then prepare for the Tour de Ski in Ramsau."
Maxim Vylegzhanin (RUS) : "After three days of competition it was very tough for me today. I did everything that I could. I found a good place in the chasing group. I am very happy about the podium. I hope I will carry on the shape to the Tour de Ski and World Ski Championships"
Petter Northug (NOR) : "I think today was the toughest victory of my career. It is always hard to ski alone in front when you have the chasing group behind. I tried to find my own pace in the first four laps. I knew the group behind me would speed up. I was preparing myself for the finish. I had little bit left for the last 150 meters."
Le classement général de la coupe du monde :
1. Petter Northug (NOR) 335 pts
2. Alexey Poltoranin (KAZ) 281
3. Maxim Vylegzhanin (RUS) 252
4. Martin Sundby (NOR) 249
5. Dario Cologna (SUI) 188
...
14. Maurice Manificat (FRA) 97
43. Jean-Marc Gaillard (FRA) 16
La vidéo :