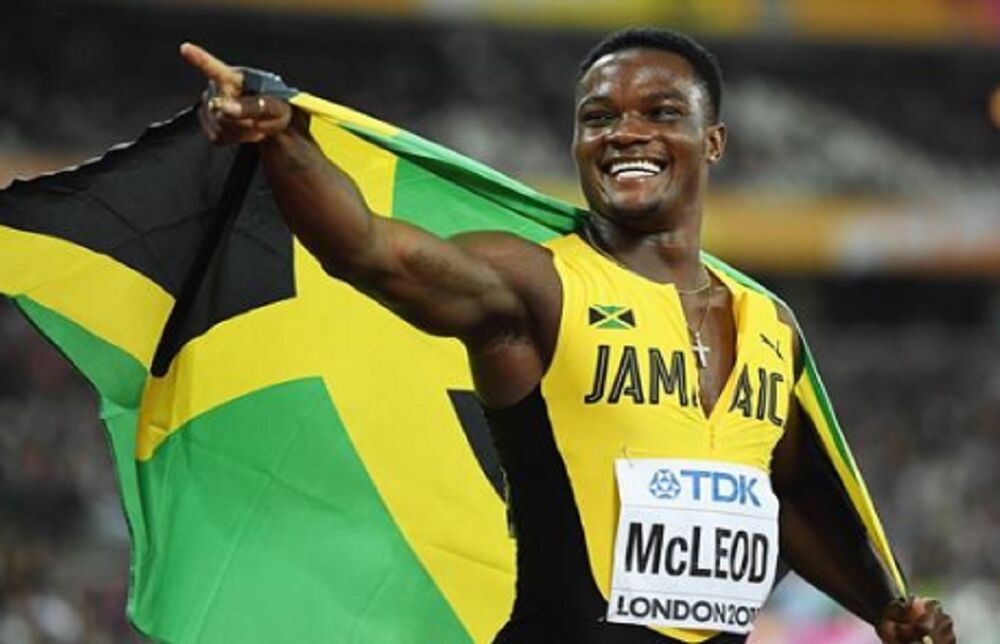 Photo : Jamaica Loop News
Diamond League - Rome / Florence 2021 - Les résultats
Athlétisme - Vous trouverez sur cette page les start lists, les résumés vidéo, les réactions et les résultats du Meeting de Florence prévu jeudi 10 juin...
...
Athlétisme / Diamond League / Rome Florence 2021
...
...
* Disque dames : Sandra Perkovic (CRO) s'impose avec un lancer à 68.31m (SB)
* Perche dames : Belle victoire d'Anzhelika Sidorova avec 4.91m (SB)
* Poids hommes : Thomas Walsh (NZL) remporte le concours avec 21.47m, et pourtant Sinancevic et Fabrri ont lancé plus loin (stupide règle du 6e essai pour le Top 3)
* 400m haies : Femke Bol (HOL) frappe un joli coup avec 53'44, record national.
"I am really happy with this NR. In Hengelo, I made a lot of mistakes, and still here, I made some mistakes, but then the second half of the race was much better. I gained a lot of speed on the flat, but I have to find my rhythm over the hurdles.
We have been working a lot on that. My main focus at the Olympic Games will be the hurdles and then later the 4x4 relay. Last year I won in Rome and I thought a lot about last year´s win. I tried to bring back the atmosphere again. This is such a nice stadium with a great atmosphere." raconte Bol.
* Saut en hauteur : Trois hommes à 2.33m et succès aux essais pour Ilya Ivanyuk (RUS)
* 400m : Anthonio Jose Zambrano gagne en 44'76
* 3000m steeple : La victoire pour Soufiane El Bakkali (MAR) en 8'08"54, MPM 2021
* 100m haies : Encore un énorme chrono pour Jasmine Camacho-Quinn (PUR) en 12'38 (-0.8m/s)
"Actually, I did much better than I thought I would. I was really nervous at the start, so all I could think when I was in the blocks was to have a good start, push really hard, and be good to go.
There was no point of getting worked up, and I'm really excited I got to this point - it's a really good system for my next races. Of course I want to run faster, but I just take it as it comes - I've been very consistent with my races, so I'm really excited, and not rushing at all.
I'm looking forward to the Olympics this year - it will be like redemption from my fall in 2016 - I'm really excited, training really hard, work really hard, but really looking forward to it."
* Saut en longueur : Ivana Spanovic (SER) remporte le concours avec 6.74m
* 110m haies : Enorme chrono pour Omar McLeaod (JAM) qui bat le record du meeting en 13'01 (MPM 2021), avec un vent nul, Wilhelm Belocian 3e en 13'31.
"It feels good to be winning again. I am having fun again. It was a really good race. I put together a technically sound race. I did not hit a hurdle. The weather is a bit shaky but we have to put up with this.
The time is close enough to 13 seconds and I will get under 13 seconds when the time is right. Now I had two solid races back to back and I am getting better with every race. It is good to get opportunities to race again." indique McLeod.
...
🔴 Live : Wanda Diamond League - Florence 💎

110m Haies Hommes : Meilleur perf' de l'année > Omar McLeod en 13'01, 3ème place pour Wilhem Belocian et 8' Pascal Martinot-Lagarde 🇫🇷

💻 RDV en direct sur Athlé TV : https://t.co/mBQYbeVUKi
📲 App : https://t.co/KlituhK156 pic.twitter.com/EpL41J3uG0

— SPORTALL (@sportall_media) June 10, 2021
...
* 1500m dames : Une course assez fabuleuse avec Sifan Hassan (HOL) qui gagne avec un 3'53"63 (MPM 2021) record du meeting, ultra rapide. Gros chronos également pour Faith Kipyegon (KEN) et Laura Muir (GBR)
"I did not prepare for speed, I trained more for the 10K. I thought that Faith Kipyeon was going to win. At 800m we were so fast, but I tried to do my best. I got the MR, but for me it is not so much about the MR.
I am surprised about the time, even more that about my time, the WR then at the 10K. It is not my plan to run so fast, I had hoped to run under 4 minutes." explique Sifan Hassan.
* 200m dames : On continue dans l'excellence avec les 22'06 de Dina Asher Smith, record du meeting. (+0.2m/s°
* 5000m hommes : Magnifique record d'Europe pour le phénomène Jakob Ingebrigtsen (NOR) en 12'48"45
* 100m hommes : Akabi Simbine (AFS) remporte la dernière course de la soirée en 10'08 (vent nul)