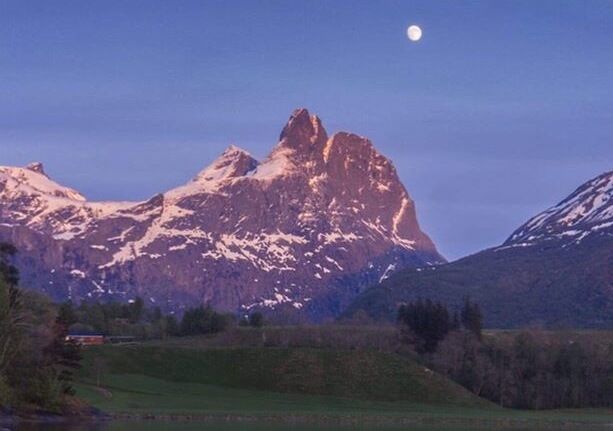 Jornet vs Heimen - Le runner face au base jumper
Le challenge : Grimper le plus vite possible au sommet du Romsdalshorn (1500m) en Norvège et revenir le plus vite possible au point de départ. Qui sera le plus rapide ? La réponse ICI en vidéo...
Denne artikkelen er over 3 år gammel, og kan inneholde utdatert informasjon.
...
...
...
Les explications
Romsdalshorn is an iconic climbing mountain, reaching 1550meters, situated in Rauma, in the middle of the beautiful fjordlands on the west coast of Norway. Kilian and Tom Erik started their race from the trailhead, carrying all they needed for their ascent/descent.
Kilian climbed up the north face (400m climbing grade IV) and downclimbed the Halls Renne (450m grade III) while Tom Erik climbed up Halls Renne and flew over the north face, meaning that at some point on their route they crossed eachother.
...
Tom Erik Heimen (44) is one of the worlds most experienced base jumpers.
Currently 2147 jumps. World record holder in vertical meters flown in 24 hours; 66.000 meters, in Loen, Norway, 2019. He is also a very experienced mountaineer. Most of the time, he will hike to his exit points in the nearby mountains, starting from his front door.
In 2019 his Suunto 9 logged an impressive 200.000 meters vertical.

Kilian Jornet Brugada (32) is a six-time champion of the long-distance running Skyrunner World Series, and has won some of the most prestigious ultramarathons.
Jornet holds the fastest known time for the ascent and descent of summits like Matterhorn, Mont Blanc and Mt Everest.

Kilian and Tom Erik live in the same area on the west coast of Norway.
Amongst the fjords they share a common passion for the mountains, and they are often skiing colouirs together.
Mostly in bad weather, as they are occupied with training and flying when the sun is shining.
During summer Kilian is busy racing around the world and running in his home mountains in Maandalen, and Tom Erik is busy flying off cliffs all over the world, meaning they are usually not doing projects together in the summertime.
Until they came up with this spectacular challenge they simply could not resist.
...

«Tom Erik and I had been skiing together the last years, and during the summer we meet many times in Romsdalshorn, him to base jump and me to run, so it became natural to do something together in our own way, and the idea of this challenge came straight away.
It was very unpredictable who would be faster. I knew I could climb much faster, but the downhill is down climbing so it takes as much time as going up for me. And I also knew that Tom Erik have a very good physical level, so he would be quick to climb and of course very fast on the way down.
During my whole descent I was expecting at any second to hear him fly by me» said Jornet.
...

«Being in the mountains with Kilian is truly motivating. He has a capacity, playfulness and motivation I have never seen before. Our common fascination for the mountains is the passion and dedication to what we do.
He has shown me new dimensions on how to explore the mountains. Our adventures in skiing has given me great experiences. The Romsdalshorn Challenge is an expression of how we can use the mountains for training and as a playground.
What surprised me most with the challenge was how fast Kilian is descending the technical and steep, Halls renne, with the challenges of loose rocks all the way.
I know he is very fast going up, and had no doubts that he would beat me to the summit, but I was expecting him to spend more time climbing down than climbing up.
When I was summiting in only 46 minutes, my personal best ever, I was 100% certain that I would beat him to the finishline.
During my flight back down I was constantly looking for Kilian, and when I realised how far he had come I was super suprised. I am truly amazed by this fantastic athlete.»
...

Route

Kilian is ascending the North wall (grade 4) and descending the Normal route Halls Renne (grade 3). Tom Erik is ascending Normal Route and flying down toward northwest.

The North Wall is Romsdalens, and maybe Norways, most climbed route. 5 pitches that varies between loose rock and nice climbing.
The Normal route is easier than the North Wall, but moves in really steep terrain were a fall will have serious consequences.
You should have previous climbing experience to climb this route. Most people will prefer to use rope and protection on this route.
...
Source YouTube Kilian Jornet
...