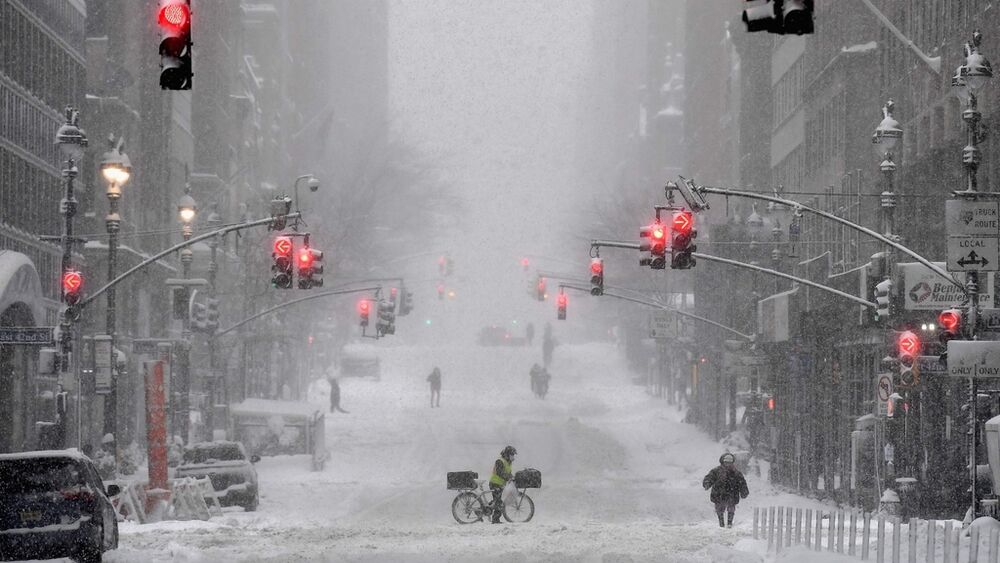 Photo : New York Weather
New York touché par une forte tempête de neige
Le Nord Est des USA et la ville de New York subissent actuellement des chutes de neige historiques. Près de 60cm sont déjà tombés, et ce n'est pas fini...
...
2 février 2021 / New York sous la neige
...
VIDEO: Snow blankets Times Square as New York braces for possibly one of its heaviest ever snowfalls.

New York declares a "state of emergency" restricting non-essential travel, moving all children back to remote learning and rescheduling long-awaited vaccine shots pic.twitter.com/aBZDHyX0OU

— AFP News Agency (@AFP) February 2, 2021
...
So pretty, New York blanketed by snow 🇺🇸☃️❄️

Potentially one of the snowiest winter storms in NYC's history has frozen parts of the city.

Up to 2 feet of snow could fall on Central Park and Times Square today. pic.twitter.com/0Y2yLgpbkF

— Cool FM (@coolfm) February 1, 2021
...
Q: "Is it still snowing in New York?"
A: "This is the picnic table. This is the grill." #snow #snow #snow ❄️ pic.twitter.com/4qirjztFRZ

— Carol Weston (@carol_weston) February 1, 2021
...
dinsdag 2 februari 2021
New York City, New York, Verenigde Staten

Snow hits New York's Times Square and 42nd Street pic.twitter.com/GK3tlwkLiA

— 🇧🇪 𝙒𝙚𝙖𝙩𝙝𝙚𝙧 𝘼𝙣𝙙 𝘾𝙡𝙞𝙢𝙖𝙩𝙚 🇺🇸 🌪️ (@CristofWeather) February 2, 2021