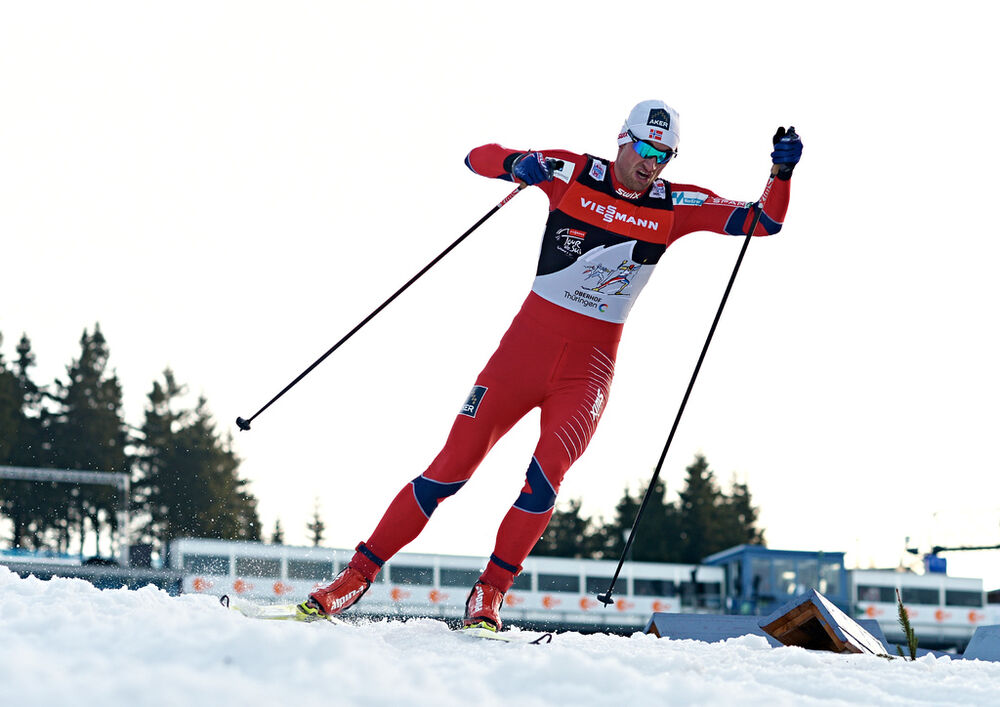 29.12.2012, Oberhof, Germany (GER): Petter Northug (NOR)- FIS world cup cross-country, tour de ski, prologue men, Oberhof (GER). www.nordicfocus.com. © Felgenhauer/NordicFocus. Every downloaded picture is fee-liable. NordicFocus
Petter Northug : "Personne ne s'en souviendra"
Comme l'an passé le Norvégien a remporté le prologue du Tour, son 9e succès d'étape en carrière, avec brio. Mais il reste serein et s'attend dès demain à une course difficile en poursuite, pour lui l'important c'est la plus haute marche...le dernier jour !
Denne artikkelen er over 8 år gammel, og kan inneholde utdatert informasjon.
...
Les réactions (source FIS) :
Alexander Legkov RUS
"I felt very good today. The course was not that icy like yesterday. I felt very good during the prologue. I will think about the plan for tomorrow's pursuit in the evening but there are many good skiers out there. I have to focus on my skiing tomorrow and find my way out of the pack."
Marcus Hellner SWE
"It was very cold in Gallivare. So I wasn't sure of my fitness before the Tour. But I am feeling good. Tomorrow I will try hard, but classic is not my best so I will see how it goes."
Petter Northug Jr. NOR
"I like very much this kind of competitions. Today it was all about technique. It was not that easy to find the right flow. I have won just the first stage. Nobody will remember it on Alpe Cermis. I am going to take it easy in the first round tomorrow. For sure Dario and others will be strong and will be chasing me. It will be important to find the right spot in the pack. "
OFFICIAL RESULTS
1. Petter Northug Jr. NOR
8:28.7
2. Marcus Hellner SWE
+6.1
3. Alexander Legkov RUS
+7.2
FIS TOUR DE SKI OVERALL STANDING (Total Time)
1. Petter Northug Jr. NOR
8:13.7
2. Marcus Hellner SWE
+11.1
3. Alexander Legkov RUS
+17.2
FIS TOUR DE SKI SPRINT STANDING (Total Bonus Seconds)
1. Petter Northug Jr. NOR
0:15
2. Marcus Hellner SWE
0:10
3. Alexander Legkov RUS
0:05
BMW xDRIVE TROPHY
1. Petter Northug Jr. NOR
71
2. Nikita Kriukov RUS
60
3. Eirik Brandsdal NOR
52
WEATHER
Fog, icy, Air: 1.9°C, Snow: 0.1°C
Photo : Nordic Focus