Reiteralm - Naeslund et Howden au top
Ski cross - La sensationnelle Suédoise Sandra Naeslund, victorieuse du général, et le Canadien Reece Howden ont remporté les courses coupe du monde de Reiteralm (AUT)...
...
Ski cross / Coupe du monde Reiteralm
...
Le communiqué FIS
Naeslund adds another World Cup win to her list
The big final of women on Sunday at the Reiteralm was a Canadian one with Olympic silver medallist Marielle Thompson, Brittany Phelan and Hannah Schmidt featuring one Swedish athlete, which of course was nobody else, but World and Olympic Champion Sandra Naeslund.
In fact, it was Thompson who was fastest out of the start gate and able to take the lead, whereas at the beginning Naeslund and the Canadian were still head-to-head, but Naeslund then got behind Thompson to take advantage of the draft.
Phelan was sitting in third and Schmidt in fourth. It happened after the roller section, where Naeslund was able to generate enough speed in order to make the pass on her rival Marielle Thompson and get into the lead, edging the Canadian to second spot.
Brittany Phelan then tried to overtake her teammate in one of the lower parts of the course, but Thompson successfully defended her position, whereas Schmidt stayed in fourth throughout the entire heat.
That way, Sandra Naeslund took an incredible 10th World Cup win at the 11th competition this season. What a record! Overall, the Olympic Champion now has 27 World Cup victories to her name and is getting closer to Fanny Smith's all-time record of 29 wins so far.
"In the final run I got so much speed drafting Marielle (Thompson) and then I just went for it all the way. It was a top race and all the Canadian girls are so fast, so I am really happy with this win," Naeslund commented after the race.
...
Reece Howden back on top of the podium
For the big final of men, a really strong Ryo Sugai from Japan, the Swiss doublepack with the Olympic champion Ryan Regez and Olympic silver medallist Alex Fiva and Canadian Reece Howden got into the start gate.
When the gate dropped, Howden was super fast out and over the start section with Ryo Sugai in second coming into the first bank turn, while the Swiss athletes Regez and Fiva were in third and fourth respectively.
Howden's margin was pretty big and with his speed, he managed to stay in front, while Sugai was doing an amazing job to stay in second. Regez was in third on his way to get as many points as possible, which would help him get a bigger margin of points for the overall World Cup win that he certainly is aiming at.
But then after the roller section and into the corner jump, where it got really tight, Regez jumped over the gate, which is a big mistake and leads to a "did not finish" result.
23-year-old Reece Howden made it back on top of the podium after a difficult season for him, Sugai took his second-ever World Cup podium and Fiva rounded out the podium with his third place.
"Today I was really fast on that track. Last year I came in second here at Reiteralm and today everything was just right and it was great fun to race here, so I am really happy to be back on top of the podium," a very happy Howden said in the finish.
...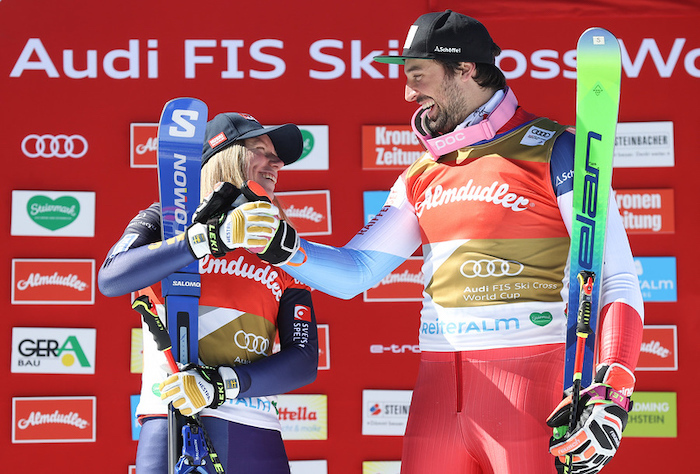 ...
World Cup standings
On the women's side, it's a done deal for Olympic Champion Sandra Naeslund, who will take home the crystal globe for the third time in her career. With a total of 1.050 points, she has been out of reach for any of her competitors.
For Fanny Smith, the second rank at the World Cup standings is secured as well, although she did not start in Sunday's competition.
But with a margin of 112 points, she is out of reach for Marielle Thompson, who sits in third with a total of 469 points, but could still get edged by her teammate Brittany Phelan, who counts 408 points in total.
On the men's side, Ryan Regez got one step closer to the crystal globe with now 527 points, which is a 41-point margin ahead of Frenchman Terence Tchiknavorian.
In third place, it's his teammate Bastien Midol with a total of 445 points. So, the crystal globe fight will be on heading into the final race of the season.
...
The ski cross circuit is ready to pack things up and head into direction World Cup finals, which will take place on March 19 in Switzerland's Veysonnaz. Don't miss out on the final show of the season. It's going to be good!
...