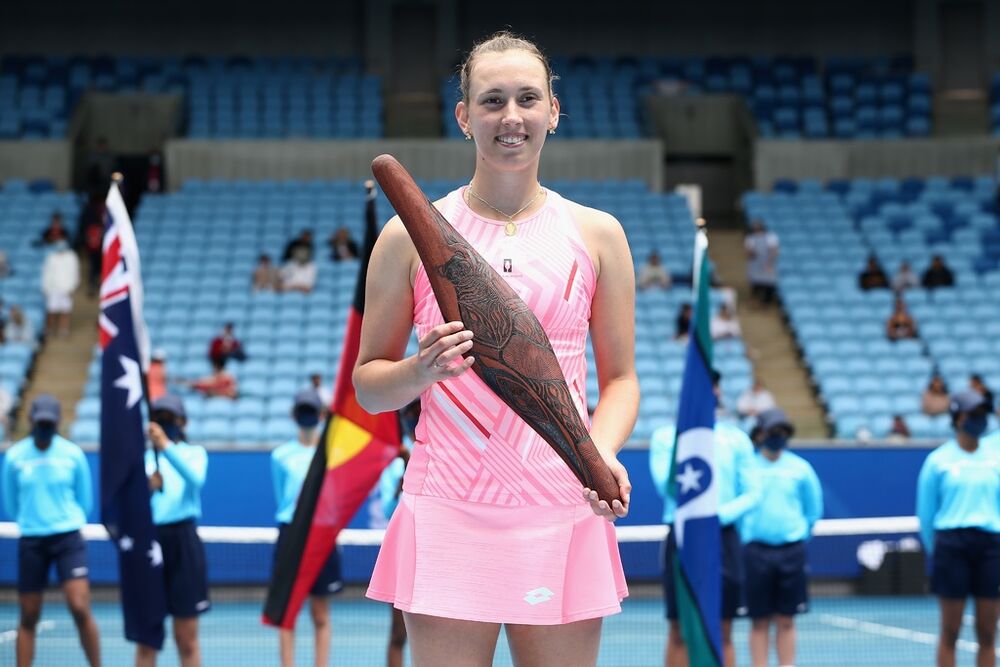 Photo : WTA
WTA - Melbourne - Gippsland Trophy - Les résultats - Mertens s'impose
Tennis - Retrouvez sur cette page tous les résultats du tournoi WTA 500 Gippsland Trophy prévu du 31 janvier au 6 février à Melbourne...
...
Tennis / WTA 500 / Gippsland Trophy
...
Les infos
Status: WTA 500
Staging: Tournament's first year
Draw sizes: 54 singles / 28 doubles teams
Surface: Greenset Cushion / Outdoor
Total prize money: USD $442,020
Tennis Ball: Dunlop AO
...
Top 8 Seeds :
Simona Halep, Naomi Osaka, Elina Svitolina, Aryna Sabalenka, Johanna Konta, Iga Swiatek, Elise Mertens, Karolina Muchova
Wildcards:
Destanee Aiava, Olivia Gadecki, Arina Rodionova, Astra Sharma
Most career WTA singles titles: Simona Halep (22)
Prize money leader: Simona Halep ($37,045,910)
Youngest singles player: Coco Gauff, 16 years old (March 13, 2004)
Oldest singles player: Kaia Kanepi, 35 years old (June 10, 1985)
...
...
1/8e de finale
...
1/4 de finale
Simona Halep (ROU) vs Ekaterina Alexandrova (RUS) : 2/6 1/6
Kaia Kanepi (EST) vs Katerina Muchova (TCH) : WO
Elise Mertens (BEL) vs Elina Svitolina (UKR) : 6/3 5/7 1/0
Irina Camelia Begu (ROU) vs Naomi Osaka (JAP) : 5/7 1/6
...
1/2 finale
Ekaterina Alexandrova vs Kaia Kanepi : 3/6 6/7
Elise Mertens vs Naomi Osaka : WO
...
Finale :
Kaia Kanepi vs Elise Mertens : 4/6 1/6
La réaction de Mertens :
"The first tournament I played this year, so I'm very happy about the result, the way I played,". "Kanepi is definitely a big hitter,"
"When the first serves go in, you have to make the returns to let her play. That's what I did. I didn't give a lot of free points, so that's always good against her.
You know, get that one ball back, let her play the game, get the balls back, but also try to, if you have the chance, attack."