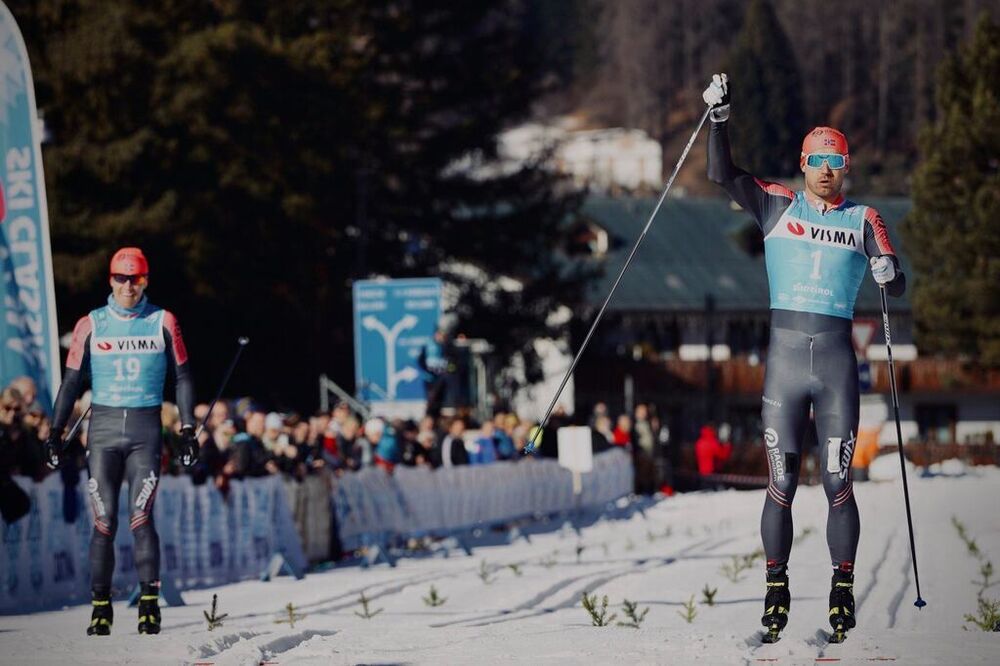 Toblach - Cortina : Andreas Nygaard s'impose
Le fondeur Norvégien, du Team Ragde Eiendom, s'impose aujourd'hui pour la 10e fois de sa carrière sur le circuit Ski Classics. Il devance au sprint son coéquipier Petter Eliassen. Victoire de la Suédoise Britta Johansson chez les dames.
Denne artikkelen er over 3 år gammel, og kan inneholde utdatert informasjon.
...
...
Fantastic conditions for this Marathon 42km
The women started 40 minutes ahead of the men's field. Britta Johansson Norgren, Lager 157 Ski Team, increased the speed towards the sprint at Nordic Arena in Toblach after 9,4 km. She was challenged by Lina Korsgren but managed to win the sprint with a small margin.
After the sprint, there was at first a more moderate tempo in the big leading group.
Johansson Norgren then attacked a couple of times towards the climb point at Cimabache and only Kari Vikhagen Gjeitnes, Team Koteng, could follow. At the top, they had a gap of 25 seconds to the following group.
The last kilometer before the finish in Cortina Johansson Norgren tried to get away from Vikhagen Gjeitnes but the Marcialonga-winner stayed close behind.
At the finish stretch, Johansson Norgren had the best speed and grabbed her 20th victory in Visma Ski Classics with a winning margin of one second.
...
"It was really fun to race today. I felt in good shape and had really good skis. I know that Kari also is very strong in the end so I was a little bit worried. It's really fun to be on top again," said Johansson Norgren.
"I am satisfied but it was so close. I will try to win Jizerska next weekend instead," said Vikhagen Gjeitnes.
Behind the top two Anastasia Vlasova, Russian Winter Team, was first in a close sprint between five skiers taking her first podium place.
...
The men's race started with high speed from start with Ermil Vokuev, Russian Winter Team, in front of the pack.
At the sprint in Nordic Arena in Toblach after 9,4 km. Alexander Panzhinskiy, Team Robinson Trentino, was first just before Max Novak, Team Ramudden and Stian Berg, Team Kaffebryggeriet.
With about 18 km to the finish Petter Eliassen, Team Ragde Eiendom, started to increase the tempo and after a while, only Morten Eide Pedersen, Team Kaffebryggeriet, could follow.
At the climb point at Cimabache after almost 30 km Eliassen was first followed by Pedersen and had a gap of 13 seconds to Tord Asle Gjerdalen, the three-time winner of the race, and Andreas Nygaard.
In the downhill towards the finish in Cortina Eide Pedersen couldn't follow Eliassen who was likely to go for the win. But things changed when Andreas Nygaard caught his teammate and then he managed to win the race with his well known fast finish sprint.
...
"I am very satisfied. I have been in good shape for a while now so its good to finally gets this win. It was a super tough race. Petter pushed really hard to the top. It was just to go all in after the top to catch him," Nygaard said.
"It was a good race. but maybe I did some mistake before the top because I could have wait for Gjerdalen and we could have worked together after the top." Eliassen said and continued;
"Then Eide Pedersen was not so strong in our breakaway so I did most of the work. I thought I was going to win but then Andreas catch me the last kilometers and then I knew that he will be the winner.
But I am happy for the team and Andreas, and myself. We finally got a victory."
...
Behind the first two, there was a close sprint with eight skiers for the third position. Marcus Johansson, Lager 157 Ski Team, managed to get his second podium place this winter just ahead of Max Novak, Team Ramudden and Stian Hoelgaard, Team Koteng.
...
Leaders in the Hertz Champion bib competition after Toblach-Cortina is now today's winners Andreas Nygaard and Britta Johansson Norgren.
Both also winning the Visma Alp Trophy cup combining the alp events and will be awarded with prize money at the final gala after Ylläs-Levi.
Stian Berg, Team Kaffebryggeriet and Max Novak, Team Ramudden now is together in the top of the men's sprint competition.
Britta Johansson Norgren is back on top on the women's side.
Emil Persson, Lager 157 Ski Team and Ida Dahl, Team Ramudden keeps their lead the Youth competition.
Astrid Øyre Slind and Morten Eide Pedersen still lead the Climb competition.
It's close in the top of the Pro Team competition. Team Koteng is 20 points ahead of Lager 157 Ski Team and Team Ragde Eiendom is third only 5 points behind Lager 157.
...
The next event in Season X is Jizerska Padesatka, 50 km classic, in Bedrichov, Czech Republic, on February 9, 2020.
...
...
Photo : Ski Classics
...